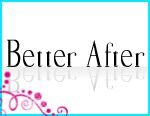 Ok for some of you this is no big deal, being featured on another blog for your creativity is an every day occurrence for you, well for this little lady, it made my day!
Better After is a blog that I love to follow because it is full of before and after pictures. When I am looking at a project, I really want to see the before and after, the details only come after interest is peaked. This blog is perfect for that. If you haven't had a chance to check it out, I recommend you do.
While you are looking, feel free to check out
THIS
post where Colton's nursery was highlighted! I was feeding Colton and catching up on my blog reading via google reader on my iPhone, when I saw my picture, it brought such a huge smile to my face.
Ok enough ramblings, thanks Lindsey for the feature!